Controversial and out of service due to the war in Ukraine, the Nordstream gas pipelines linking Russia to Germany have both suddenly suffered unexplained leaks in the Baltic Sea, Danish and Swedish authorities announced on Tuesday (Sept 27), raising suspicions of sabotage.
A day after a leak in the parallel Nord Stream 2 gas pipeline was reported, the Nord Stream 1 gas pipeline connecting Russia to Germany was hit by two rare gas leaks in the Baltic Sea. Copenhagen immediately put its energy infrastructure on alert, while believing it was "too soon" Let's talk about the causes of these simultaneous events.
The subject of geopolitical arm-wrestling in recent months, two pipelines operated by a consortium that depends on Russian giant Gazprom are out of action as a result of the war in Ukraine. But both were full of gas.
The Kremlin said to itself "very concerned"Assuming it should not be excluded "no" Hypothesis, including vandalism.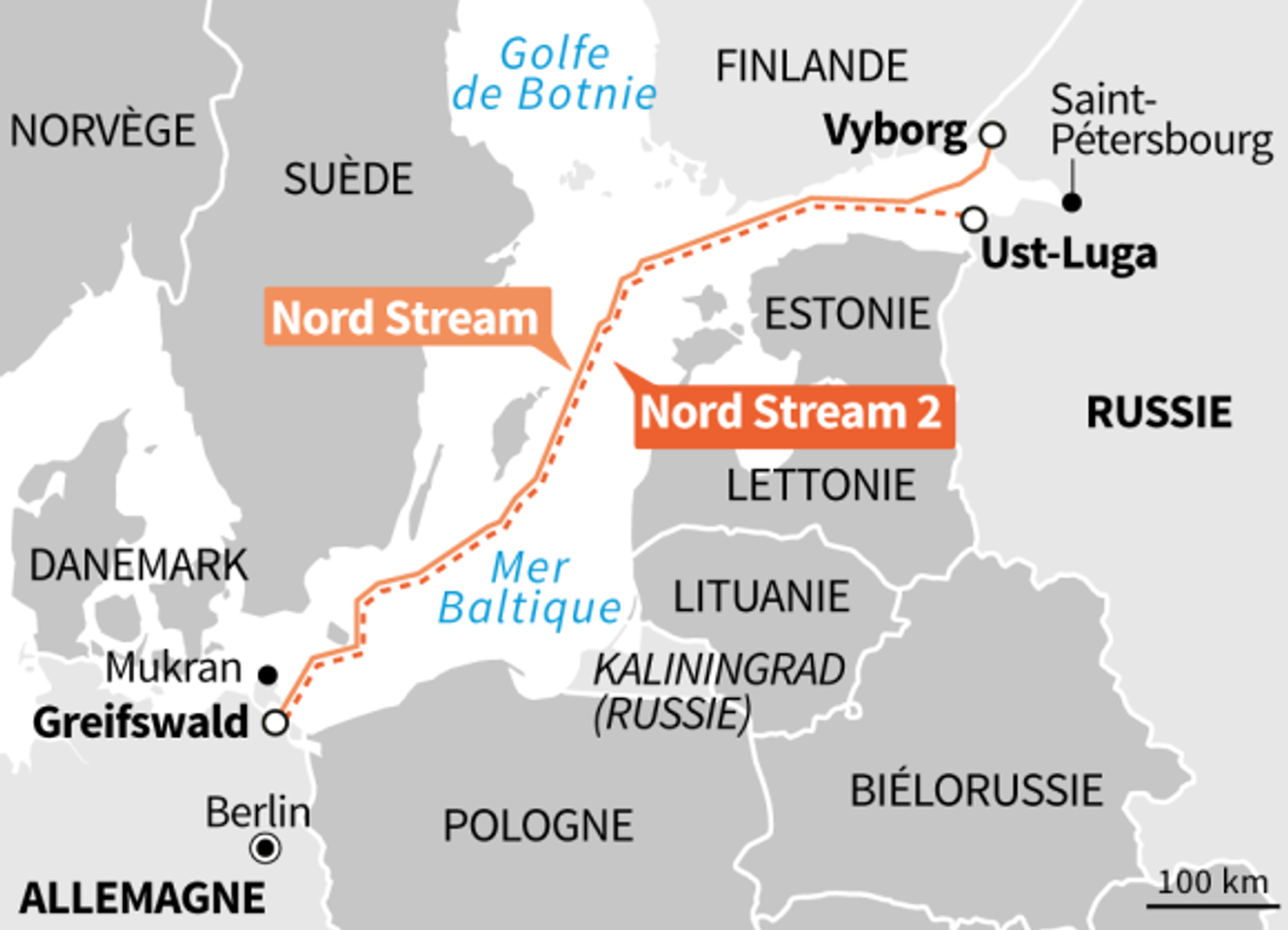 "Extremely Rare Gas Pipeline Leak"
Danish Climate and Energy Minister Dan Jorgensen and Swedish maritime authorities confirmed Tuesday morning after the consortium announced Monday evening that it would operate gas pipelines in Nord Stream 1. "Two More Leaks" In addition to affecting Nord Stream 2.
All three are located on the Danish island of Bornholm. Spills in Nord Stream 1 take place outside territorial waters, but one is in Denmark's exclusive economic zone and the other is in Sweden.
"Gas pipeline leaks are very rare, so we see reason to increase the level of vigilance following the incidents we have witnessed in the last twenty-four hours"Danish Energy Agency director Kristofer Potsau explained in a press release. "Deep Monitoring of Denmark's Critical Infrastructure".
The alert level was raised to orange, the second highest. Decisive measures to increase the safety of factories and installations should be taken by companies in the sector.
"Everything speaks against a coincidence"
Built parallel to the Nord Stream 1 gas pipeline, the Nord Stream 2 pipeline was planned to double Germany's ability to import Russian gas. But its upcoming mission has been suspended in response to Moscow's invasion of Ukraine.
Gazprom has gradually reduced the amount of gas delivered through Nord Stream 1, blaming Western economic sanctions for delaying needed repairs to the pipeline until the pipeline was completely shut down at the end of August.
German officials had no immediate comment. But according to a source close to the German government, quoted by the German newspaper Dayspiegel "Everything speaks against chance". "We cannot imagine a scenario where it is not a targeted attack."Emphasizing this evidence.
Navigation within a radius of five nautical miles (about 9 kilometers) and their overflight within a radius of one kilometer are prohibited. According to officials, the incidents have no consequences for the safety or health of residents of the neighboring Danish islands of Bornholm and Kristiansø.
According to preliminary assessments the environmental impact is likely to be localized and limited. On Tuesday, the Danish prime minister, along with his Norwegian and Polish counterparts, inaugurated the Baltic Pipe, a gas pipeline that will connect Poland to Norway and run through the Scandinavian country's territory and waters.
"Alcohol enthusiast. Twitter ninja. Tv lover. Falls down a lot. Hipster-friendly coffee geek."