JERUSALEM (AP) — Israeli Prime Minister Benjamin Netanyahu told the nation Saturday evening that the army had opened a "second phase" in… the war Against Hamas by sending ground forces to Gaza and expanding attacks from land, air and sea. He said it would increase before a large-scale ground invasion in the region.
He added: "It will be long and difficult." "we are ready."
The bombing, which Gaza residents described as the heaviest during the war, led to the disruption of most communications in the Strip. This largely cuts off the besieged enclave's 2.3 million residents from the world, while enabling the IDF to control the narrative in the new phase of the fighting.
The army published grainy photos on Saturday showing columns of tanks moving slowly in open areas in Gaza, many of which appeared to be near the border, and said warplanes had bombed dozens of tanks. Hamas tunnels and underground bunkers. The underground sites are a major target in the Israeli campaign to crush the ruling group in the region after its invasion Bloody invasion To Israel three weeks ago.
This escalation led to more internal pressure on the Israeli government to release dozens of hostages kidnapped by Hamas in the October 7 attack, amid fears that they were being held underground.
Desperate family members met with Netanyahu on Saturday and expressed support for the exchange of Palestinian prisoners held in Israel, an exchange mooted by Hamas's top leader in Gaza.
Netanyahu said in the press conference broadcast on national television that Israel is determined to return all the hostages, and stressed that the expanded ground operation "will help us in this mission." He said that he could not reveal everything that was going on due to the sensitivity and confidentiality of the efforts.
He said, for the first time he received questions from journalists since the start of the war: "This is the second phase of the war, and its goals are clear: to destroy the military and governmental capabilities of Hamas and return the hostages to the homeland." He did not address calls for a ceasefire.
Netanyahu acknowledged that the October 7 "disaster," in which more than 1,400 people were killed, would need a thorough investigation, adding that "everyone will have to answer questions, including me."
The Israeli army said that it was gradually expanding its ground operations inside Gaza, but it stopped short of describing it as a comprehensive invasion.
Chief military spokesman Admiral Daniel Hagary said: "We are proceeding through the stages of war according to an organized plan." The comments hinted at a strategy of phased escalation, rather than a comprehensive and overwhelming attack.
Early in the war, Israel massed hundreds of thousands of troops along the border. So far, forces have conducted short nighttime ground incursions before returning to Israel.
Palestinian militants have fired thousands of rockets at Israel over the past three weeks.
The Palestinian death toll in Gaza rose on Saturday to just over 7,700 since the war began, with 377 deaths reported since late Friday. According to the Ministry of Health in Gaza. The ministry said that the majority of those killed were women and minors.
Ministry spokesman Ashraf Al-Qudra told reporters that the communications outage led to the health network being completely paralyzed. Residents had no way to contact ambulances, and emergency teams were chasing the sounds of artillery barrages and airstrikes.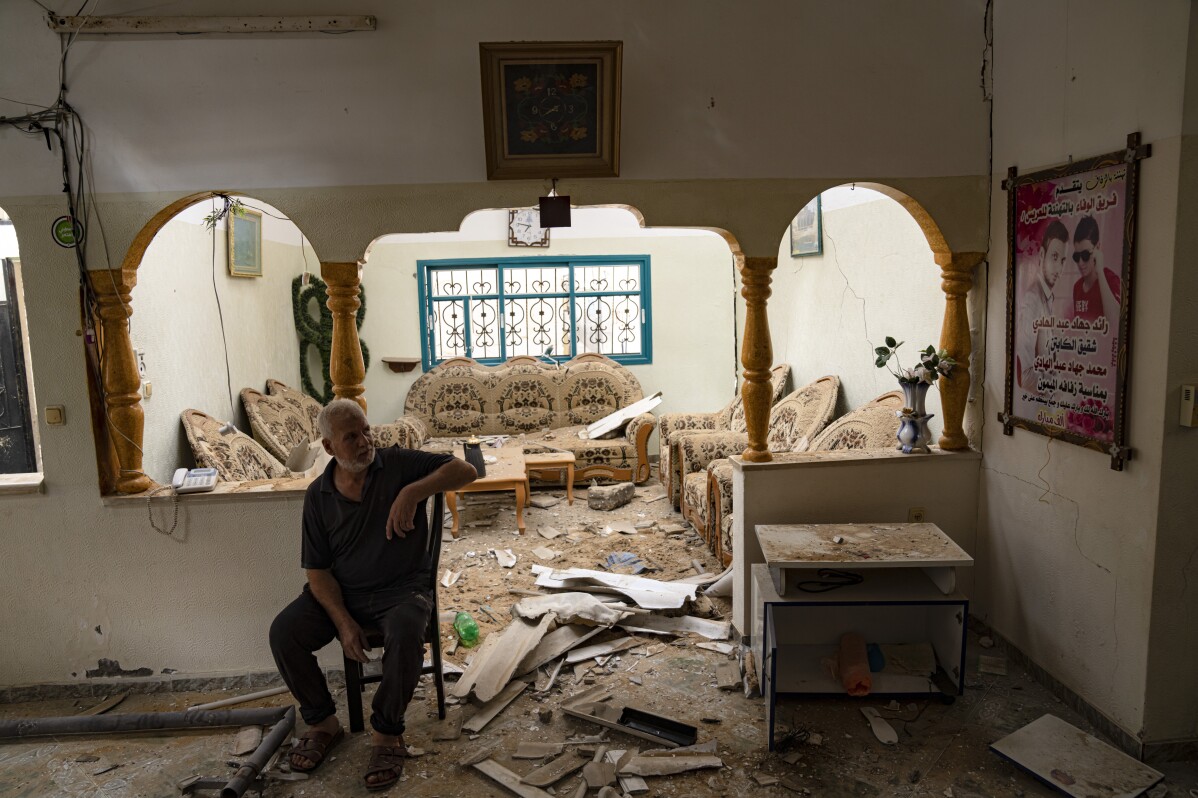 An estimated 1,700 people are still trapped under the rubble, according to the Ministry of Health, which said it based its estimates on the distress calls it received.
Some civilians were using their bare hands to pull the injured from under the rubble and put them in personal cars or donkey carts. In a video clip published by local media, Palestinians ran in a street with a wounded man covered in dust resulting from the collapse of a building. "Ambulance! Ambulance!" The men shouted as they placed the stretcher in the truck and shouted, "Go!" He goes!"
Some Gazans traveled on foot or by car to check on their relatives and friends. "There were bombs everywhere, and the building was shaking," said Hind Al-Khudari, a journalist in central Gaza and one of the few people with cellphone service. "We can't reach anyone or contact anyone. I don't know where my family is."
Israel says its strikes target Hamas fighters and infrastructure, and that militants operate among civilians, putting them at risk.
The World Health Organization appealed to "the humanity of everyone who has the power to end the fighting now" in Gaza. "There are more wounded every hour. But ambulances cannot reach them due to communications outages. The morgues are full," she added, adding that more than half of the dead were women and children.
Palestinians say the war has also robbed them Funeral rites Which has long offered mourners some dignity and closure. Overcrowding in cemeteries forced families to dig up long-buried bodies and deepen the holes.
More than 1.4 million people across Gaza have fled their homes, with nearly half of them crowding into UN schools and shelters, following repeated warnings from the Israeli military that they would be exposed to serious danger if they remained in northern Gaza.
No large population has been evacuated to the south, partly because Israel has also bombed targets in so-called safe zones where conditions are worsening. Food and water supplies were running out. Israel cut off electricity early in the war.
Humanitarian workers say the little aid Israel has allowed in from Egypt in the past week represents only a small portion of what is needed. Gaza hospitals are searching for fuel To operate emergency generators that power incubators and other life-saving equipment.
The United Nations agency for Palestinian refugees, which runs a network of shelters and schools for about half of Gaza's displaced population, has lost contact with most of its staff, its spokeswoman Juliette Touma said on Saturday, and coordinating aid efforts is now "extremely difficult."
The intensified air and ground campaign has raised new concerns about the hostages being dragged into Gaza. Hundreds of their relatives gathered on Saturday in Tel Aviv and demanded that the government put the return of their loved ones before Israeli military objectives.
In comments likely to inflame these tensions, Hamas leader in Gaza, Yahya Sinwar, said the Palestinian armed groups are "immediately prepared" to release all hostages if Israel releases all Palestinians held in Israeli prisons.
Hagari, the Israeli army spokesman, rejected the exchange offer and described it as "psychological terrorism."
In Cairo, Egyptian President Abdel Fattah El-Sisi said that his government is working to stop the escalation of the conflict through its talks with the warring parties to release prisoners and hostages. His office said he spoke on Saturday with UN Secretary-General Antonio Guterres.
Guterres said in a statement that he was "surprised by the unprecedented escalation of bombing and its devastating effects" in Gaza.
Among many, impatience was growing. Turkish President Recep Tayyip Erdogan told hundreds of thousands of people at a pro-Palestinian rally in Istanbul that his country is preparing to declare Israel a "war criminal" over its actions in Gaza. He did not give details.
The Israeli Foreign Minister said that he ordered the return of the Israeli diplomatic mission from Turkey to re-evaluate relations.
The total number of deaths in Gaza and Israel far exceeds the total number of deaths in all four previous wars between Israel and Hamas. It is estimated at about 4000.
The conflict threatens to spark a wider war across the region. Arab countries — including U.S. allies and those that have reached peace agreements or normal relations with Israel — have raised increasing alarm about a possible ground invasion.
___
Magdy reported from Cairo. Associated Press writers Samia Kullab in Baghdad and Joe Federman in Jerusalem contributed to this report.
___
Complete AP coverage: https://apnews.com/hub/israel-hamas-war.
"Infuriatingly humble alcohol fanatic. Unapologetic beer practitioner. Analyst."